We provide comprehensive support for people with disability
The Will to Live Center (WLC) is a nonprofit, based in Hanoi, Vietnam, that provides free computer and life skills training courses, to people with disabilities, in order to help them find employment and integrate fully into society. The WLC, also runs several social initiatives with the goal of ending the discrimination and stigma that people with disabilities face, on a daily basis.
The Will to Live Center supports and assists people with disabilities, to integrate completely into society, through employment services and social initiatives.
Our vision is to support people living with disabilities and provide them with technology and life skills, to ensure equal opportunities and access in the technical field and society as whole.
From Will to Live center
Explore what we do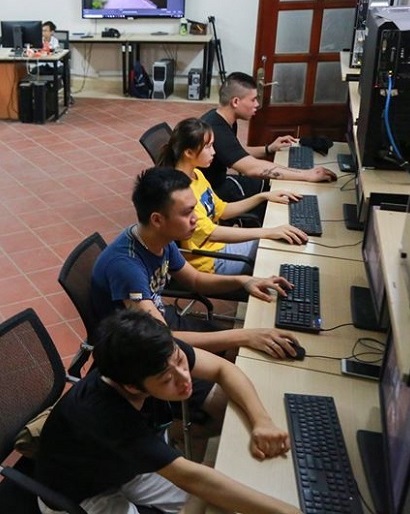 Students at WLC, will enroll in a free, six-month training program. The training program
includes courses in: photo editing, microsoft office application, graphic design, english
communication and more. During the program, students will gain skills in information
technology, website design and management, PC installment, maintenance and network
administration. Students will also gain skills in English communication, independent living
skills, and corporate working skills. Following the training program, the WLC will offer students
employment support and career advising. Majority of the graduates from the WLC, find careers
in photo editing or online marketing fields.
If you are interested in applying to the program, you can read more about the application process here.
Over the past couple years, The WLC has created and provided many community
events, such as the "Gala Dinner" workshop, " IT job opportunities for people with disabilities"
seminar, "Pride in What you do" workshop, the " I am beautiful. You too!" fashion show for
women with disabilities, and the "You Raise Me Up" running event. Our goal is to connect the
community by creating new spaces and experience for people with disabilities, and providing
positive and realistic views about people with disabilities, through community involvement.
You can read more about these social initiatives on our social initiatives page.
Although the WLC provides education and employment opportunities for people with disabilities
in the technology field, we also provide more job opportunities for graduates through our Home-
Working Project.
Achievements
What we are proud of...
Awards and certificates for impact from social entrepreneurs
of our students found employment after graduation (average monthly salary)
5.000.000 vnd/month is our student's average salary
students have been trained in IT, basic English skills, Microsoft Word and Marketing Online.
With support from foreign and domestic donors, our training program has been able to grow and excel over the years.
We have also received several awards in recognition of the work that we do.
2008: Blue Ribbon Award. Vietnamese Talents Award.
2009: Sparrow Awards
2010-2011: The best IT Training center for the disabled. Certificate of Merit. The Social Entrepreneurship Award.
2012: Female Vision Award.
2013: The 2013 National Volunteer Award
2014: Nghe An Talent Award. Nghe An Representative Youth
2019: Award for Organizations with Effective Information Technology Solution For People With Disabilities
Our history
The story of us
2003
'The Great Circle of Viet Nam' was founded in the province of Nghe An
2004
Founding of 'The Cong Hung Computing Technology Training center"
2008
'The Cong Hung Computing Technology Training center' was renamed 'The Will To Live center"
2009
'The Will To Live Joint Stock Company' was founded in Hanoi.
2012
Mr. Cong Hung - our founder passed away
2013
Mrs Nguyen Thi Van became the director of 'Will to Live Center' and President of 'The Will to Live Joint Stock Company"
2016
Mrs Nguyen Thi Van became Chairwoman of Co-founder Board of Will to Live Center, Co-founder and Chairwoman of Imagtor Company and Ngo Thi Huyen Minh became Director of Will to Live Center